I recently interviewed my friend Rachel who is a former Rockets Power Dancer AND Houston Texans Cheerleader! I started working with Rachel in 2010 when she danced with the NBA. She is super talented and is in amazing shape! I wanted to share her fitness tips and secrets for those of you who may be considering trying out for a pro-cheer team or if you just want to look like a professional cheerleader (who doesn't?!)!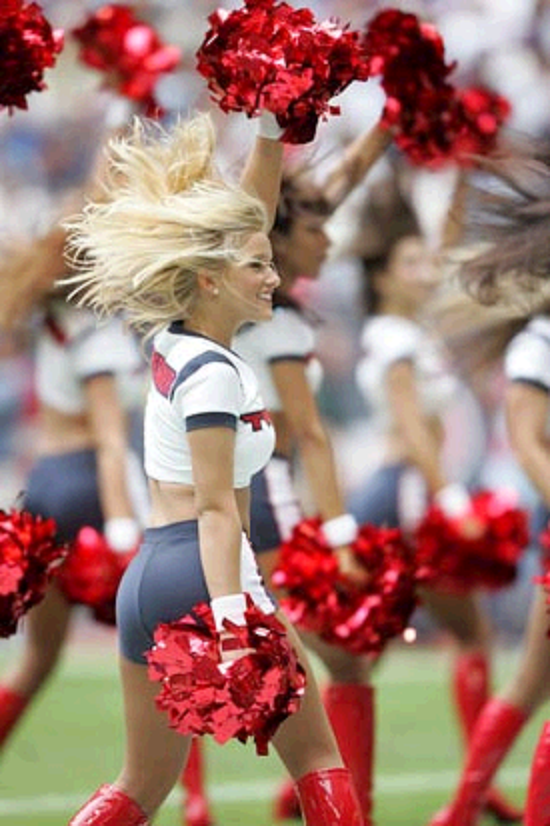 You were both a Rockets Power Dancer and a Houston Texans Cheerleader! Tell me a little about that! How long did you cheer for HTC and dance with RPD? 
I danced for the NFL for 2 seasons, starting in 2004. Â I took several years off, but decided to try out for RPD in 2010. Â I danced for the Rockets for 4 seasons!
You have to look great and be in top shape to be selected for the team. What kinds of workouts did you do to prepare for tryouts? I always have enjoyed running, and to prepare for tryouts I really liked Tai Bo because it works everything and helps a lot with balance. I didn't really know too much about proper technique with gym equipment and weight training until I got on RPD and Cari became our trainer. Since then, that is something I do at home as well.
Being a professional cheerleader is hard work! How much time did you spend dancing/cheering per week when you were on the team?
Yes, it is a lot of work and requires much more commitment that people realize! Â I would estimate with practices, games, appearances, and workouts that I spent between 25 and 30 hours a week dancing.
What about workouts when you were in-season and performing? How did you make time to fit them in? 
During the season, it is really tough to fit workouts in! Â With RPD, we would meet Cari at the gym before our scheduled practices. Â That's where we did our circuit training, but we were also able to mix it up a lot with yoga and kickboxing. Not only were those workouts great for staying in shape, but it was a good way to get work stresses out so you could focus at practice afterward.
Many people don't realize that most cheerleaders have full-time jobs! Was it hard going from work to practice and games? How did you keep up your energy?
I had a full time job for all six seasons, which is a requirement for both teams.  I would say the deeper I got into my full-time career, the harder it became to juggle work, practice, and games.  It was especially difficult with the crazy NBA schedule!  I was very lucky to have a supervisor who was willing to work with me and was very understanding. Sometimes you don't always get enough sleep, so caffeine and adrenaline helped me get through game days.  Pre-game dinner  for the Rockets games was grilled chicken and fresh fruit and veggies, so that helped with energy too.
Photo Credit: Troy Taormina-USA TODAY Sports
Have you always been a dancer? How did you get involved with dance/cheer?
I started dancing when I was six years old. Â My first class was ballet. Â The next year I added jazz and tap, and it grew from there. Â I didn't start cheerleading until I was 12 years old, but I continued both through high school.
Do you have any advice for girls that want to be professional cheerleaders or dancers?
My advice is to commit to it! Â Being a professional dancer or cheerleader requires alot of time and energy. As a member of such as small team, you carry a lot of responsibility on your shoulders to always look and perform at your best. A pro dancer lifestyle involves a great deal of preparation on your own including practicing and workouts. Take different styles of dance classes, and focus on your time management, stamina, and being good teammate to others. Â It is all very hard, but it is absolutely worth it.
What do you do now to stay fit? Do you still dance in your free time?
I don't dance anymore, unfortunately. Â I still do enjoy running and circuit training.
When you were on the team – what was your favorite exercise or workout to keep you fit?
Dancing really burns a lot of calories, so while I was dancer, practicing helped a great deal to keep me fit. And since dancing was the best part of the job, that was my favorite!
Other than dance, what is your favorite type of workout?
My favorite workouts are weight training, running, and yoga.
What is your favorite healthy snack or meal?
My favorite snacks are smoothies with yogurt and fruit, and I also like almonds.
Can you tell us something that people may not know about pro cheerleaders?
Being on a pro team teaches you a great deal about work ethic, time management, professionalism, and responsibility.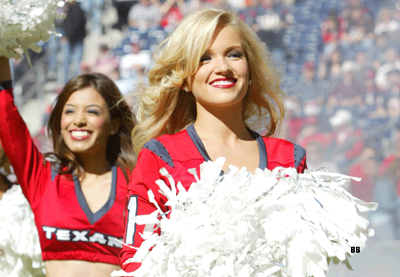 *To try a sample workout that I used to do with Rachel and RPD, click here.